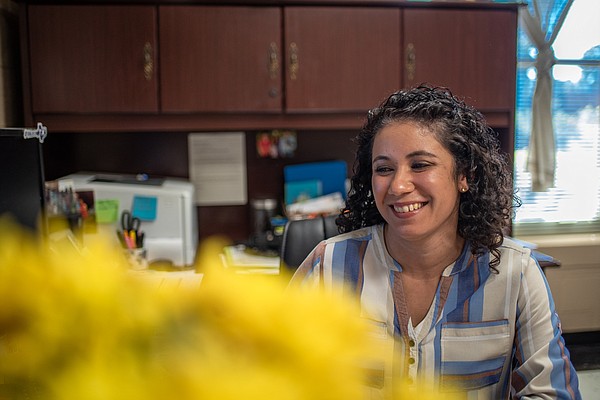 YOUNG AND IN CHARGE | Local manager uses the power of positivity to lead by example
Editor's Note: This is the latest in an occasional series about young leaders and entrepreneurs trying to make a difference in Texarkana.
TEXARKANA, Texas — When opportunity presents itself, Westlawn Elementary Principal Elodia Witterstaetter responds and welcomes new challenges to grow for herself, her family, her campus, and her community.
As a first-generation student, Witterstaetter earned multiple degrees, rose through the ranks in her career as an educator, and uses her experience and knowledge to encourage students, teachers, and her own children to achieve their goals, stay optimistic. and persevere through all obstacles.
"I personally think we're taking this opportunity or turning our backs on this opportunity," she said.
As a lifelong learner, she is currently continuing her education with the Bill Ratliff Academy for School Executives Alternative Superintendent Certification Program, in partnership with Region 8 ESC and Texas A&M University-Texarkana. She is expected to graduate in December.
"This program has given me a broader perspective in my current role as campus leader and how I can continue to align and support our goals and priorities for our districts," she said.
Continuing her third year as Principal at Westlawn, Witterstaetter has worked to support teachers and help develop students who understand the value of being active members of their community and who also excel academically. The elementary campus is enrolled in FranklinCovey Education's "The Leader In Me" program, encouraging students to explore the curriculum with an emphasis on leadership.
As if being responsible for more than 370 students in grades three through five wasn't already a huge burden to bear, Witterstaetter began her journey as principal in July 2020, having to navigate the troubled waters of COVID-19. .
"In your head you think you're ready for the role, but with COVID it was just uncharted territory," she said.
Witterstaetter started as director with the introduction of virtual learning while trying to alleviate staffing issues caused by COVID.
"I feel like that year she became our beacon. When you think of the purpose of a light, she was our guide. During the pandemic, we were lost and in a sense it was a dark times for our school and our education as a whole," Deputy Principal Kedrick Jones said.
The campus has returned to some normality, so Witterstaetter is now eager to grow as an administrator.
"Each year has brought so many new learnings," she said. "The best part of all is seeing the growth of students and teachers, and I'm very proud of the work they do every day."
Witterstaetter has worked at TISD for over 20 years.
"I've had the pleasure of working alongside some of the best of the best," she said. "From the beginning of my career, I was surrounded by good mentors who allowed me to grow even in the most difficult moments."
In 2003, she began working as a receptionist, then worked in various positions on TISD campuses as a public school volunteer campus contact, attendance clerk, and administrative assistant.
"Each position has given me the unique opportunity to learn and grow as a professional," she said.
During her time in various school administrative positions, Witterstaetter pursued her teaching degree. In 2007, she earned an Associate of Arts degree from Texarkana College, and in 2009, she earned a bachelor's degree in general studies with a concentration in mathematics from A&M-Texarkana.
"I was one of the first to go through the Path to Education cohort, which got paraprofessionals into school, and through that program I got an associate's degree and a bachelor's degree here in Texarkana."
The program allowed Witterstaetter to finally have his own classroom. She started at Texas Middle School as a seventh-grade math teacher and would stay there for several years.
In 2013, she earned a master's degree in educational administration from A&M-Texarkana and eventually became vice-principal at Nash Elementary.
"One of my accomplishments that I was most proud of was being named TEPSA Region 8 Assistant Director of the Year 2020," she said.
Community service is part of Witterstaetter's mission as a leader. The 2019 Leadership Texarkana graduate is a member of the Junior League of Texarkana, the Tough Kookie organization, the Northeast Texas Alliance of Black School Educators, and the Texas Elementary Principals and Supervisors Association.
"I believe we all have a job to give back to our community," Witterstaetter said. "Someone has invested in me, and so I pay for it by investing in other people as well."
Being involved in various civic organizations has allowed Witterstaetter to see what Texarkana has to offer and how the community can keep young adults here. She hopes more businesses will cultivate relationships with teens in the community and give them the opportunity and experience to be involved in society.
As a mother of three — one enrolled at Texarkana College, another a senior in high school, and the youngest in sixth grade — Witterstaetter is determined to provide for her family and lead by example how they can become citizens. productive. Her daughter is particularly passionate about philanthropy.
"The fact that she was able to come with me to volunteer in the community ignited her fire," Witterstaetter said. "She loves volunteering. She loves missionary work."
Part of his passion to keep moving forward is to uplift others and hopefully light a fire in others. She does this on campus with her weekly memos full of positive quotes and celebrations and through her annual vision boards full of affirmations, uplifting phrases and goals for her and her staff to reflect on.
"When someone says, 'You can do it,' it really helps you move on," she said.