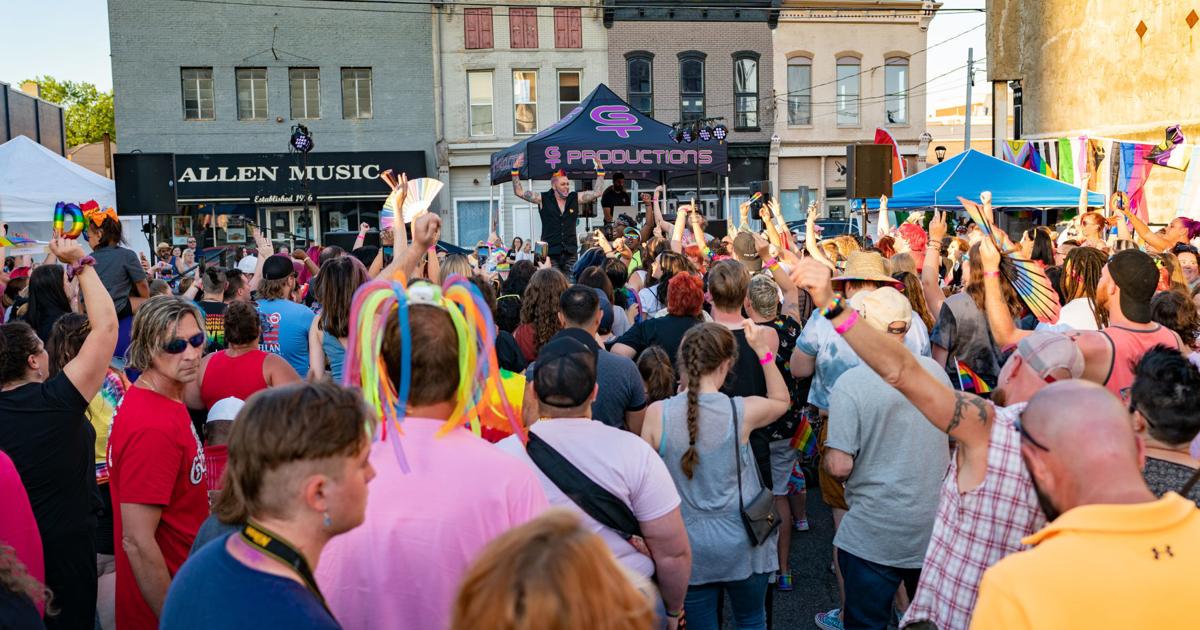 Paducah Pridefest a celebration of positivity, inclusion and acceptance | New
"You all, that's all." "Love is a human right." "Be kind." "Trans lives matter." "Dare you to be yourself."
Slogans of acceptance and celebration, rainbow flags galore, dancing and messages of positivity abounded at Paducah Pridefest on Saturday as nearly 2,000 people turned out for the local community celebration LGBTQ+.
Festival organizers said around 1,500 people received wristbands for their donations, and vendors and those without money to donate likely totaled a few hundred more.
Drag performers exuded energy with flashy, exuberant, even slightly acrobatic performances, and musical acts brought messages of inclusion and acceptance.
Jennifer Knapp, who shot to fame around the turn of the century with multiple hit Christian albums and Grammy nominations, peppered her set with reflections on her own lesbian coming out journey, the reactions she's encountered, and coming to terms with his value.
"Once I found out I was lovable, I wanted everyone around me to know they were too," Knapp said.
"Every human being needs dignity."
For Knapp, regardless of anyone's religious beliefs or lack thereof, it is important to recognize the "sacredness" inherent in every human being.
"It's a church and it's beautiful," she said. "Church is when we are there for each other."
Gary Willis and Glenn Spengler of Paducah said that while living as a gay couple in a largely conservative area can present challenges, they have been accepted in Paducah.
"There has been an improvement," Willis said.
"This event is an improvement. Every step is a step, no matter how small.
"It's important for people to know that they can be whoever they want to be, no matter what."
Spengler, who previously lived in Nashville and moved to Paducah to be with Willis, said he always thought Paducah was inclusive and welcoming.
" It's a big city. I really like it here. Every bar-restaurant, everybody knows us," Spengler said, encouraging others to work to understand people they think aren't like them.
"Everyone has different needs. You never know what they've been through in their life. Love them and accept them.
Jeff Hudson said that while final fundraising numbers weren't released on Monday, he expects Beautiful Paducah will have more than enough to cover the cost of the event, complete a project of embellishment and have a good amount of money to help organize next year. Pride Day.
"It really exceeded our expectations. The response has just been amazing," Hudson said.
He said the group hopes to paint a mural inspired by the festival somewhere in Paducah.
Hudson said he was encouraged by the community's response, especially since the festival went ahead with just three months of planning.
"To me, that means there's support for the (LGBTQ+ community) and support for the event."
"Are there pockets of hate? Are there pockets of resistance? Yes. I think they're small, and I think Paducah is pretty progressive," he said.
Hudson promised financial transparency when the final fundraising tally comes in, and added that the band donated $500 for Murray Pride, which has its festival next week.
But even more than fundraising, Hudson said he's encouraged by the number of families, even those outside the LGBTQ+ community, who have come forward to support them.
"For me, when we have families that bring their kids to events like this…we're going to have the next generation that's even more tolerant, more inclusive."