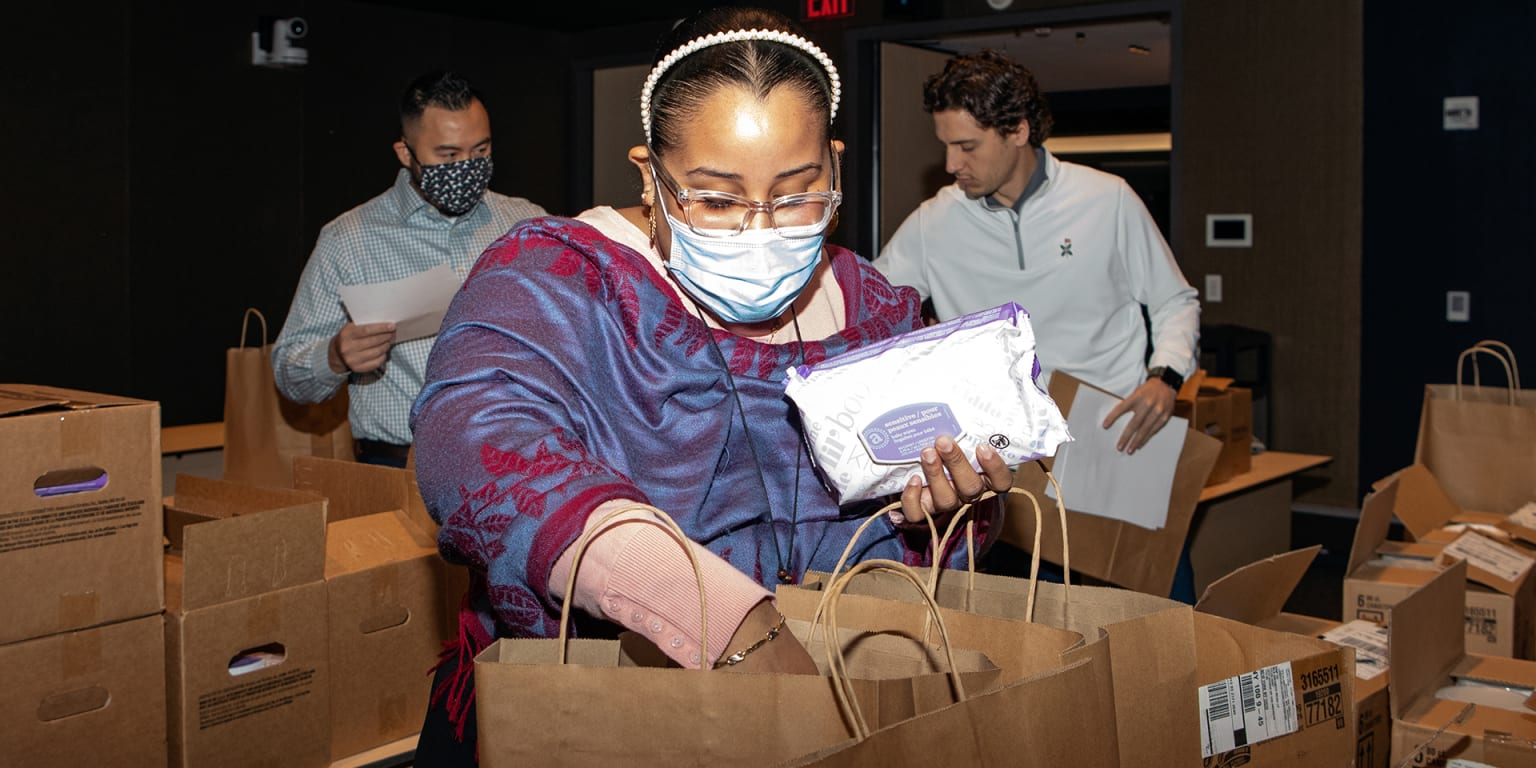 MLB Business Resource Groups Partners To Support Independence Fund
[ad_1]
NEW YORK – When the Military Veterans Professionals Business Resource Group (MVP BRG) was launched in 2019 – the ninth of Major League Baseball's employee networks promoting diversity, equity and inclusion – its leaders would not have could not have suspected that two years of a global pandemic would delay their efforts to organize a volunteer event at the Commissariat.
So when Steve Swindell, Senior Director of Security and Baseball Operations and BRG Co-Chair, decided to plan his first event this year, he came up with the idea of ​​a coat drive for veterans in the need during the holidays. season. As it turned out, when he spoke to a colleague, Marc Son – Global Media Sales Coordinator and BRG Asian Co-Chair – he found out that Son's group had a similar plan underway.
The two BRGs then decided to team up – and with the help of the MLB Community Affairs Department, the company's annual coat drive came to support the Independence Fund, a national non-profit organization. of veterans. Founded in 2007, the group strives to help catastrophically injured, injured or ill U.S. Army veterans as they overcome physical, mental and emotional injuries sustained in the line of duty.
Since the end of the summer, the Independence Fund has also supported more than 120,000 Afghan refugees currently housed in US military installations across the country under the special immigrant visa, which is granted to people who have worked with the US armed forces in the past.
"I was like, 'Oh, this is a gift from heaven' because at the end of the day I can still participate by doing something, not directly for the American vets, but for the people who have helped. American veterans who were in Afghanistan, "said Swindell, an Army veteran." I know to be in a foreign country [that] when there is someone there who can help you not only with traditions, but also with communication – that is one more tool that you cannot put the price on.
"These men and women from Afghanistan left their homes and while we were there they were hospitable to us and helped us when we needed it. So that was the least we could do to help.
Over the course of three weeks, MLB employees donated approximately 100 lightly worn and washed coats and vests of all sizes to the cause. As of Wednesday afternoon, more than 30 volunteers gathered in the company auditorium to pack them in boxes for delivery to Fort McCoy, a 60,000-acre military base in Wisconsin where more than 10,000 Afghan refugees are preparing for a cold winter while completing the steps in their relocation process.
Jeremy Davis, Program Director of the Independence Fund and veteran of the wars in Iraq and Afghanistan, appeared at the event and gave a passionate speech to the volunteers about the importance of the work they were doing.
"Afghanistan has a place in a lot of heart-serving people," Davis said. "We felt it was imperative to get involved in any way possible by bringing in some of our allies during the evacuation process. … This is going to be a big adjustment for these people. They were uprooted with little, in a new land that is unfamiliar to them, all the things that go with being out of home, language barriers – and now we're going to put the climate on it. everything else. "
Along with collecting coats, volunteers packed relief items for displaced families, sorting fleece jackets, sweatshirts, blankets and gloves into marked bags for boys, girls, men and women. women. Toiletry kits containing items such as toothpaste, soap and baby wipes were also included, and Lysol – one of the league partners – supported the event by donating sets of disinfecting wipes for all families.
In just an hour, the volunteers managed to pack another 100 bags of supplies to help the Afghan refugees. Driven by the energy and philanthropic drive of the employees, the event was also a way for them to connect at a time when these opportunities are still rare.
"I've seen people I haven't seen in a while," said Darrell Lampa, senior director of talent acquisition and BRG Asia co-chair. "[I could] catch up with them and see what they've been up to, plan vacations and stuff like that. It's always nice to have this camaraderie in person. It was good collaborative energy here, all for a very good cause.
Davis, whose organization endured "hair on fire" times at the forefront of this relief work, shared how impressed he was with the volunteers' efforts and the MLB's contribution, noting that the base would receive even more help than expected – "a good problem to have.
"It's really pretty amazing. Since August, when evacuation efforts began in Afghanistan, there has been a surge of community support at the local and national levels, and we are just happy that the Independence Fund is playing a small role there. … Where it's going to be successful is at this local level, where people are involved in different businesses. Whether it's MLB or your local plumber or electrician or whatever, this is how we're going to make a difference and be able to support our Afghan allies.
"And on a personal level, it fills your heart wallet, doesn't it?" It makes my heart happy to see people, especially at this time of year, coming together to support other human beings. "
[ad_2]