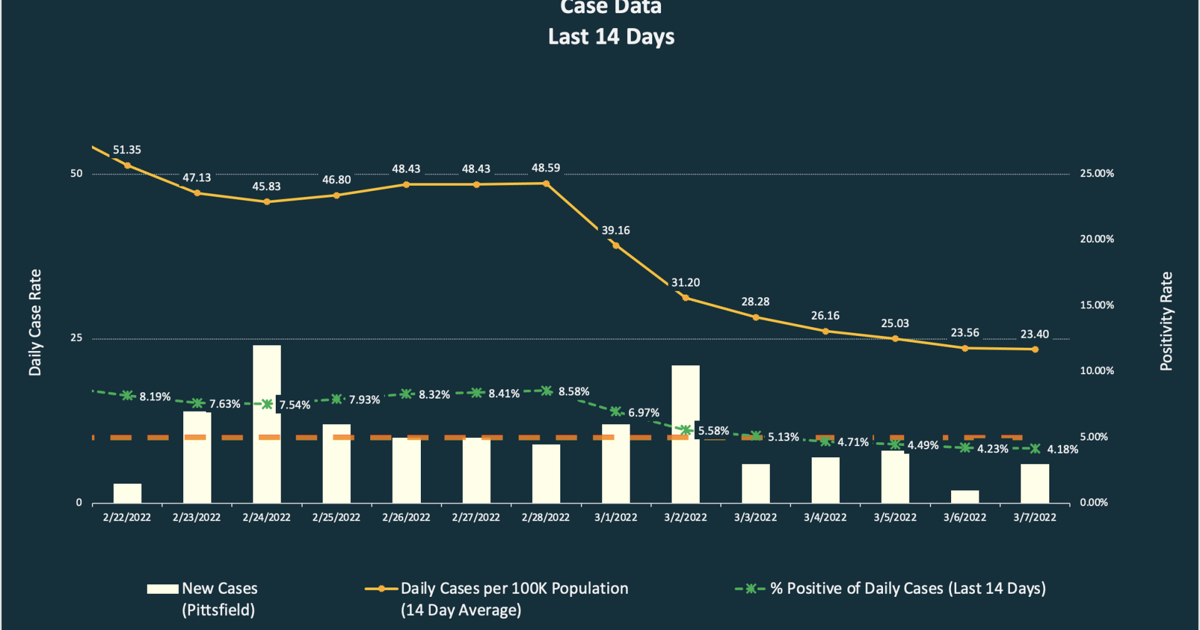 Low case counts and positivity rates push Pittsfield out of COVID-19 'red zone' » | Central Berkshires
PITTSFIELD — Over the past four months, the city's coronavirus case rates and test positivity rates have placed Pittsfield in a coronavirus "red zone" — a category defining state public health officials at the start of the pandemic as areas at high risk of transmissibility.
Pittsfield is back in the 'red' zone for COVID cases as the Thanksgiving holiday begins
"I am happy to report that due to the past 14 days – and lower case numbers – we are no longer in the red zone, we are now in the yellow zone," Chief Health Officer Andy Cambi announced. during the city council's coronavirus update. Tuesday evening.
The city's level of transmissibility has been lowered due to a decrease in the test positivity rate below 5%. Cambi told the Council that the test positivity rate fell to 4.18% on Monday.
The testing rate reflects a decrease in virtually all of the city's measures to track the coronavirus.
The 14-day average daily case rate was 23.4 cases per 100,000 people on Monday – a rate not seen in Pittsfield since October. The concentration of coronavirus samples in the city's sewage has reached its lowest point since the start of the year.
Pittsfield drops indoor mask directive in favor of state-aligned advisory
Berkshire Medical Center has had no more than two coronavirus patients in the intensive care unit since mid-February and as of Monday had only one registered coronavirus patient.
Council Chairman Peter Marchetti said that in light of the optimistic trend in coronavirus data, he would agree to Cambi's request to reduce the frequency of coronavirus updates to the council from twice a month to one. times per month.