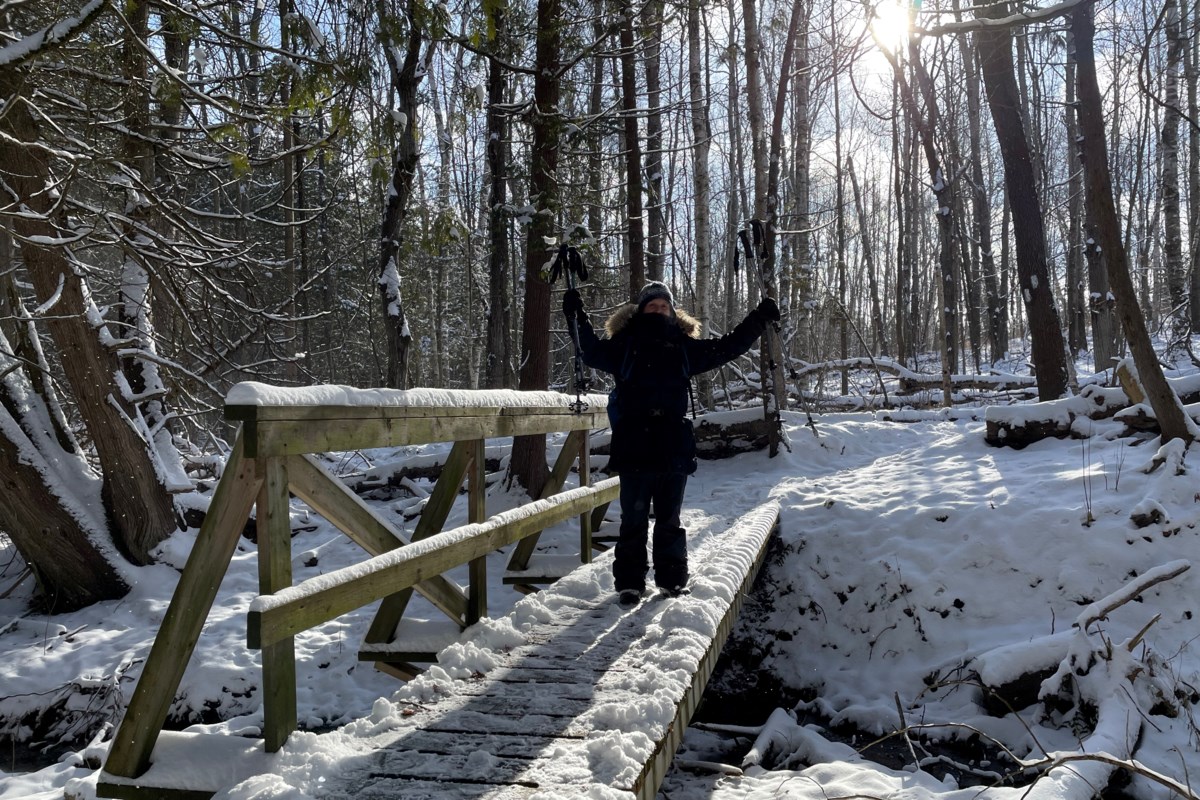 LIFE WITH CYNTHIA: Memories Can Take Us To Many Places
"When we realize that there is no place like home, restlessness will set in and the time will come again to venture out," says columnist
Yesterday we hiked. It was a spectacular day for a rich and rewarding challenge through the freshly fallen snow. The trail in the Palgrave Forest area was well trodden with many human and animal tracks. Our feet added to the cacophony of the disturbance of the cool blanket.
There were also cycle paths. There is an increased presence these days of heavy-fatigue cycling over rougher terrain. People looking for thrills, thrills and challenges such as mountain biking, hooked on the bike, on slippery surfaces such as snow and mud, require skill and practice. This kind of sport challenges body, mind and soul. One person we met was loading their bike and we stopped for a quick chat. When he looked up we noticed he had a gash under his right eye. Shakily we asked him if he had had a spill and he explained how he and his riding partner collided. Looking at him, I'm sure the 2021 vacation photos will forever be a reminder of this fall as his eye will be black and blue in the days to come.
I spoke to a friend today who will be flying to northern Canada for vacation. She's excited as she prepares to head for minus 46 degrees and home to the midnight sun. Traveling on December 21, she will arrive in the north at the tipping point of our year when the earth begins its return to light in the northern hemisphere. Her photos and memories will also be securely preserved in images, both in her mind and in her prints.
I continue to spend time with those who are tied up. Traveling is in their minds and through technology. National Geographic and Discovery channels and, of course, YouTube can take us from the North Sea to the depths of the tropics, watching elephants and polar bears from the comfort of our living room. Large screens allow you to swim with dolphins or soar through the air with a parachute attached. We can feel that we have traveled and when we remember these adventures, whether traveling or looking, the subconscious does not make a difference.
Today, in the comfort of my armchair, I can relive the hike I did yesterday, or the bike I did last summer, or the trip to Ireland in 2019. I also remember the experience of seeing monkeys and elephants that I have witnessed through my eyes. by David Suzuki as he shares his travels. The unconscious experiences all of this in the same way. My memories can take me anywhere, places that I even forget I witnessed until something familiar triggers the trip.
In 2007 my friend and I went to meet his family in Port Credit. Even though I knew I had parents there when I was a child, I had no idea where they had lived. I remember the trip from the backseat when we were 10 years old, when we drove to my aunt and uncle's house. I couldn't geographically remember where they were, I just knew they were in Streetsville, which was close. My friend was driving and as he turned into a street near his parents, I felt like I knew. The familiar, déjà  vu feeling. I told him, "I've been here before! »There is a park in front on the right. And it was there. As we drove I could remember things. We arrived at his parents' house and had a visit. We recounted my ghost and arbitrary memories with little understanding, and they asked for my aunt and uncle's name. When I said it, my friend then took my hand and we went out. We walked up the street, about three houses around the corner and there was their house.
It turned out that my friend's parents relied on my aunt and uncle. I went upstairs and knocked on the door. Although my aunt and uncle are long gone, passed away many years ago, my first cousin opened the door. While I could not have taken my friend to this house, my memory did. It was surreal.
Our minds are so complex and capable of doing a lot more than we realize. Much of it is beyond comprehension. The subconscious stores everything we see, hear, smell, smell and taste and when we think it's gone forever, something familiar creates a spark to remember. While this trip was years ago on my child's mind, it was here to remember. I could feel the presence of my family in this geographic area.
With limited movement and commuting, perhaps it is time for us to enjoy our history, as members of the community, and remember what it is to stay close to home. We can travel our imaginations through technology and have an experience as if we were there, but we have to remember what Dorothy discovered in her ruby ​​red slippers. There is no place like home. We have been so busy running around that we have lost touch with this concept. When we are content to find happiness at home, the rest of our life is the icing on the cake or the ruby ​​in the turnovers. Maybe it's time to see this oppressive motion control as a great energetic booster, resetting us for a bigger adventure to come. When we realize that there is no place like home, turmoil will set in and the time will come again to venture out.
While I was sitting there last night with my grandsons, we watched an old cartoon that I had watched as a child. I relived sitting in my house with the 26 inch console floor model and my mom in the kitchen and my dad in his reading chair. I traveled in my mind to a place I had been before. It was like a movie, and it could have been something I saw in a Hallmark Christmas movie; however, I choose it as a heartwarming memory and thought. It doesn't matter how real or unreal it is. I traveled in my head to where I was when I watched this show 50 years ago. I cherish those times when there was no place like home.
On our hike, in our local community, we moved from busy trails to areas where the snow had not been disturbed. No new footprints in the newly fallen crystals. While the snow was fresh, new and undisturbed, like the cartoon, I remembered when we hiked it last fall. What happiness I felt to see him again. Like my cousin standing in the doorway and remembering my childhood living room or the images on a screen of Shetland Island (where I have never been), I find solace in remembering.
Using my memory to find comfort in everyday life surpasses restrictions and the lost can be rekindled. How do you live each day as we go through difficult times? It is up to you to choose to be happy and build community with those around you. At this time of year, at the dawn of a new beginning, leave good memories to remember above all. Challenge yourself to build community and to reach out spiritually to others.
Cynthia Breadner is a bereavement specialist and bereavement counselor, worker in soul care and offers specialized care in integrated spiritual psychotherapy with particular attention as a practitioner in cognitive behavioral therapy and as a facilitator of resolution of traumatic incidents. She volunteers at a hospice, works as an LTC chaplain and is a death doula, assisting with end-of-life care for the client and their family. She is the mother of the #DanCynAdventures duo and practices fitness, health and wellness. She is available remotely through safe and secure video connections, if you have any questions contact her today! CynthiaBreadner@gmail.com breakstibah.com