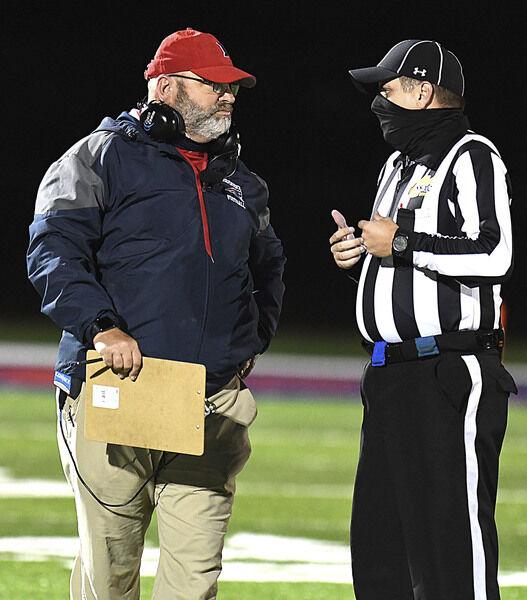 John H. Lilly appointed Sporting Director of Independence | Sports
[ad_1]
John H. Lilly is an old school coach, but that doesn't necessarily mean Independence's football coach maintains a consistent old-school mindset.
"I always felt like a growth coach," said Lilly. "By that I mean trying to learn and adapt over time. As (Alabama football) coach (Nick) Saban said, "You adapt or you die." We have to grow and change. "
Still, the occasional throwback to days gone by is a good thing. In a throwback to her own playing days, Lilly was recently named Independence's new sporting director.
He recalls his own playing days at Bluefield in the late 1970s, early 1980s, playing for the legendary John Chmara.
"When I was at Bluefield Coach Chmara was the AD and I think if you look at a lot of schools the football coach was also the AD," Lilly said.
Lilly has been in teaching for 35 years, after a stint in the US Marine Corps.
He has been in County Raleigh for 30 of those years.
He took his second head coaching position with Shady Spring in 1991. He remained there until 2000, when he moved to Woodrow Wilson. He coached college football at Bluefield College in 2017-18 and returned from high school to Independence in 2019.
"I have a lot of experience and have made a lot of contacts over the years," said Lilly. "I think I can help. I've been asked in the past but now has never been a good time. The time has come and I am excited to know where we are going. "
Independence is in the midst of several upgrades.
"As we walk around here today (on the Independence Campus), we have work in progress, painting the (football) field, painting the baseball canoes and the concession stand. We will modernize the press box, the dashboard will be replaced and we will renovate the girls' changing rooms.
Last year the land was resurfaced with sod, the first phase by the Raleigh County Board of Education (along with Woodrow Wilson) in what was a two-year plan to sod the four fields of high school football. Liberty and Shady Spring are doing this summer.
"The Raleigh County School Board is committed to upgrading the county fields and it has really been a game-changer for us," Lilly said. "Our manager, Ms. (Shawn) Hawkins, is committed to modernizing the facilities and sports facilities. It really is a good time to be in Independence.
While pursuing a career in teaching and coaching, Lilly still had some idea of ​​what life in administration would be like.
"My wife's family was all in administration so I knew what to expect," Lilly said. "We talked about the good old days when a football coach became a sports director, and then the next step was to become a director. I've seen enough to know I don't want to do this. I'm happy to do the things I'm doing right now.
While improving the facilities is a tangible part of the job, Lilly will also be involved in less tangible tasks like planning and overseeing all of the school's athletic programs.
"I see it this way, instead of working all the time for one sport, I now work all the time for all sports. "
He never dreamed of being a sports director, Lilly said, but with his background he felt he could help the cause.
"Growing up I had two goals, to be a coach and to be a sailor, and I was able to do both," Lilly said. "Just seeing the kids smile when they see a new lawn, a painted country house, new locker rooms, that's where I am now.
"We have a great coaching staff here, there's no animosity and it's refreshing. There are a lot of good things going on here at Independence. I'm happy to be a part of it.
[ad_2]