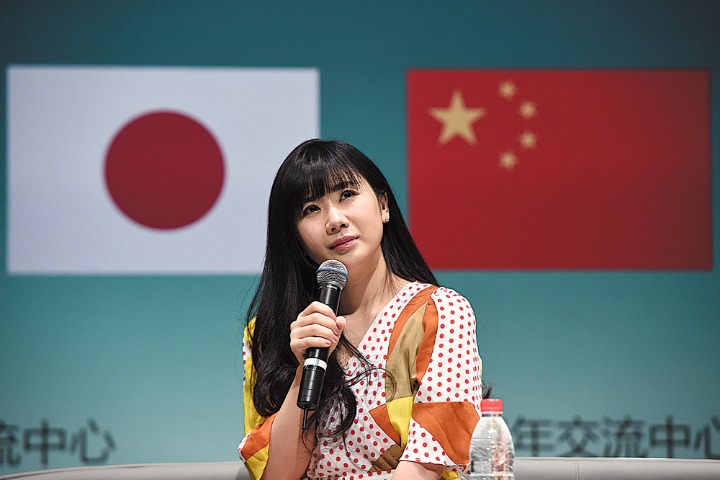 Icon Ai always brings positivity to the table
Having trained and competed in China since childhood, Japanese table tennis icon Ai Fukuhara remains a hugely popular figure with Chinese fans, highlighting the history of sports exchanges between the two countries.
Ai retired from competition in 2018 and is currently working as the General Manager of World Table Tennis (WTT) Japan. Now, the 33-year-old expects to see more communication and exchange between young paddlers from China and Japan.
The Chinese women's table tennis team ranks first in the world, followed by the Japanese women's team. It's really good for them to be able to train or exchange with Team China," Ai said last week in an interview for China Daily online show Gen Z's Words.
"Before I retired, the young Japanese players I played with were Mima Ito, Miu Hirano and Hina Hayata. For them, the China team still represents the level to catch up."
The rivalry between the two nations' teams has captivated table tennis fans around the world, especially during the Tokyo Olympics last year when hosts Japan aimed to make home fans proud. The Chinese team ultimately prevailed, pocketing four of the five gold medals on offer, with Japan taking the mixed doubles title.
The exciting confrontations between the two countries continued through a series of WTT tournaments, with many young Chinese stars impressing Ai.
"I would say Sun Yingsha is the one who impressed me the most. She is really cute," Ai said.
"They came to the international scene when I had retired. The level of the China team is so high. I wasn't so clear about their style of play. But after watching their matches, their judgment , its speed, effects, power, etc. really amazed me.
"Today's young athletes are really different. They are looking for 'happy table tennis'. They don't train like crazy and their mentality is very flexible."
Ai won silver and bronze medals at the 2012 and 2016 Olympics respectively, while reaching the podium several times at world championships. In a sport the Chinese team has dominated for decades, Ai's accomplishments make her one of the most successful Japanese table tennis players of all time.
She still credits the time spent training and competing in China as one of the main reasons for her success.
"When I was 7 years old, I went to Tianjin to train. The first day, I trained from morning to night. I was totally exhausted," Ai recalled.
"At night, I couldn't fall asleep with sore legs. At 7, I was too young to understand why my legs hurt. So I tossed and turned in my bed.
"When I played in the Chinese Table Tennis Super League, there were hardly any Japanese people except me. And when I was training in Liaoning Province, I never met any Japanese players. . So I thought and behaved like a Chinese in many ways."
Since retiring, Ai's passion for sports continues to shine through in her role as General Manager of WTT Japan, a job that involves nurturing young talent and serving athletes.
In June, she launched an online fitness live broadcast on Chinese social media, hoping to attract more people to the sport, especially table tennis.
"I think live streaming on social media is fun. It was my first time using live streaming to communicate and interact with fans as well as exercise with them," said Have.
The WTT was established in 2019, the circuit's glitzy tournaments attempting to appeal to a wider audience with an altogether more glamorous feel and larger prize pools.
"When I was an athlete, it was really a shame that there were no WTT matches," Ai added. "WTT tournaments have provided many opportunities for players. And here fans can have close interaction with their favorite players."
By promoting the sport through as many platforms as possible, Ai hopes more young people can experience the charm of table tennis.
"When I grew up, I discovered that table tennis was a bit like a teacher for me. I learned a lot of things from it. Sport enriches my life," she said.
"I think table tennis can bring a lot of joy. And like all ball games, table tennis players are very close to each other, so it's quite easy for them to become friends after playing. Such friendships last a lifetime.
"So I hope that young people and those who are hesitant to play table tennis can join us and have a happier life through table tennis."
shifutian@chinadaily.com.cn