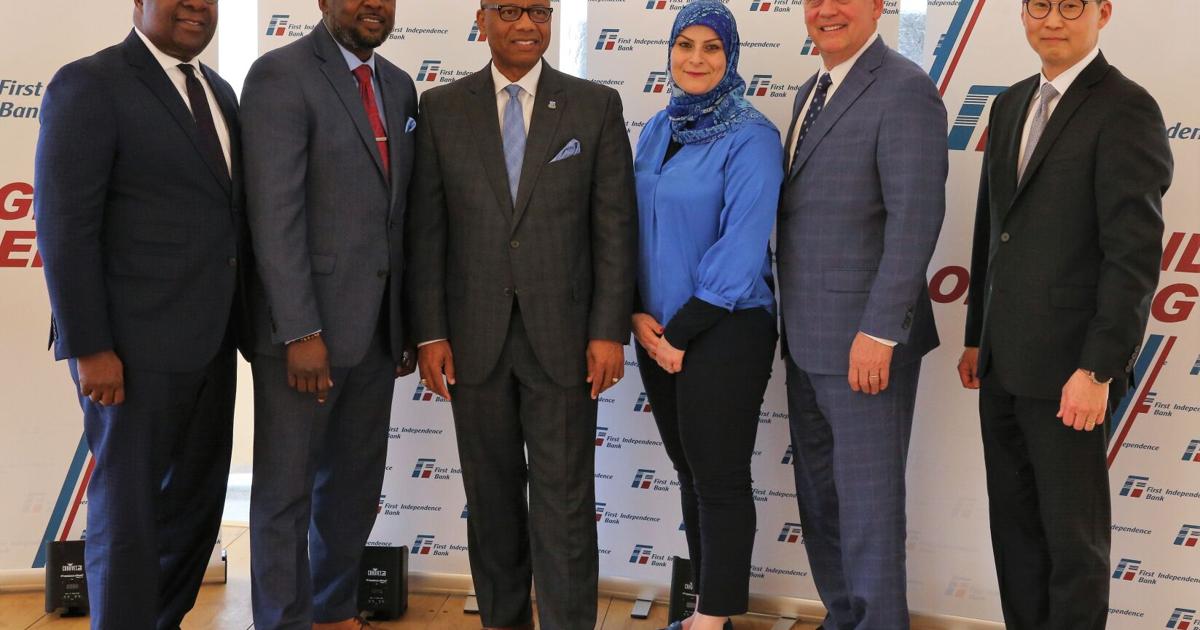 First Independence Bank | Business
It was a big deal and a big day, Tuesday April 26th.
The sun was shining, as if blessing the tent filled with people gathered to celebrate the official opening of Minnesota's first black-owned full-service bank.
First Independence Bank of Detroit, MI has cut the ribbon inviting Twin Cities to join in its mission to tackle the crisis in homeownership and wealth creation. Black residents and other people of color live in Minnesota.
Lt. Governor Peggy Flanagan, among many government, civic and banking leaders welcoming First Independence Bank to the market, quoted the bank's first president for the expansion of the Twin Cities region, saying, "Damon Jenkins, I heard you. Black owned. Not just black.
Closing his brief address to the standing assembly, Flanagan again noted the significance of the event, indicating that his words of welcome show the goodwill and gratitude of the governor and state government, but reflect also some connection to "people who were here before the state of Minnesota existed.
A citizen of the White Earth Nation, the Lieutenant Governor concluded with "Miigwech! – which means "Thank you" in Anishinaabemowin, also known as Ojibwa.
As revealed in the photo above, First Independence Bank is launching with a strategy and mission that recognizes and nurtures the reality and strength of diversity in the marketplace. The institution also launches in full awareness of the parody of the murder of George Floyd in South Minneapolis, and the Twin Cities and the global demand for justice that seeks to dismantle the systems of structural disadvantage imposed on black residents and other populations. marginalized.
Ken Kelly, First Independence Bank chairman and chief executive, said a week earlier in a Conversations With Al McFarlane interview on KFAI FM 90.3 that he grew up in Alabama, the county where George Wallace is from. "We have extensive experience in how to rebuild broken communities. I'm an engineer by training and worked for a utility company for almost 30 years. I ended up stepping back from that utility and those experiences to become president and CEO of First Independence," he said.
A circumstance that recalls the hope that emerges from the rebellion of George Floyd, "Our bank started in 1970, a direct consequence of the 1967 riots in Detroit. One of our founders said two years ago, speaking to our Millennial Advisory Council, "What was great about opening the bank in 1970?" Thanks to this bank, African Americans got better jobs in majority banks in addition to being janitors and cashiers.
Kelly said the new black-owned bank is bringing good competition, and today he said: 'The good news is we've been here 52 years and we want to be a beacon of hope. We lend our infrastructure and give it to those who love Minneapolis so we can replicate the successes we had in Detroit.
"There is a need for minority banks. You get different results. I'm going to use the typical secret client model. To the right? We know that in reality, Peter Frosh and I can enter the same establishment under the same pretexts with the same qualifications. And we can probably come up with different results. It's a reality. It shows up through ratings, and other places. What we want to do is engage positively so that the gap between those two outcomes starts to narrow. And we hope we can do that in a positive way that can make a difference to the community as a whole," Kelly said.
First Independence Bank is one of 17 other full-service black-owned banks in the United States. "There has been a decrease – at one point there were over a hundred banks controlled by African Americans. We are down to less than 20 now. But the reality is that the banking sector will probably continue to shrink. reduce because of the scale needed to be successful in the long term," Kelly said. "The irony is that as we move from a segregated society to an integrated one, the dynamic changes. how to do it correctly, we will have results that we will not appreciate in the future.
Damon Jenkins grew up in south Minneapolis, a few blocks from where George Floyd was murdered by Minneapolis police officers. His mother still lives in the same house where he grew up. This successful family experience informs his mission to promote home ownership in our community. Success, he said, is to get our community "to a point where not only are we in the homes, but we can maintain the homes, enjoy the equity and pass it on from generation to generation. It's a good way to measure our success. This is a good way to ensure that we bring full service relationships to our communities.
"My goal is the financial well-being of our community. It is this other part of the complete service that we bring to the community. And it's really about meeting people where they are, identifying opportunities to gain their trust and engaging them in a banking relationship. You know, the United States has over 7 million people who don't have a banking relationship. There is an opportunity there. Many people are unbanked and use check-cashing places to negotiate their hard-earned money," he said.
"We need people to be stewards of banking services. We need people to be surrounded by economic resources. This is a group that is committed to really working together, to thinking differently, to working differently to provide access to communities that have not had access, Jenkins said.
"I grew up in south Minneapolis. Being a home owner in this community, my mother was personally affected as, following the social unrest, resources were taken from the community. And so I've observed in the 30 years that I've been here, especially communities of color, black communities don't have access – and are denied access to abundance," Jenkins said. .
Damon Jenkins is the icon of what happens when preparation meets opportunity.
"It came from prayer. My prayer was before the murder of George Floyd. It was during the pandemic. I prayed, "Put me in a position where I can participate in a discussion about how to think and do differently in banking when it comes to fairness for communities of color, and especially the community black." My prayers have been answered. I was in banking for almost 15 years at Wells Fargo and US Bank, two of the banks that were part of this initiative to bring capital to BIPOC communities. Everything is the work of God. It's divine intervention saying 'here's a chance for us to really do something different.'
Peter Frosh served as a counterpoint to President Kelly's illustration of iniquity earlier in the interview. Frosh is CEO of Greater MSP, a regional economic partnership for this metropolitan area. In existence for about 10 years, the organization convenes CEOs, mayors, county commissioners and heads of foundations who come together to consider "What are the big things we need to do to create economic opportunity for everyone who live here? Frosh said, "Some of this work is international and some of this work is very local. Ultimately, economic development is about improving the material well-being of the people who live in your community. This is a revolutionary and innovative project that takes us forward in this direction.
Frosh said Greater MSP supports First Independence's expansion into Minnesota. "We have the strength to help a company to come from elsewhere. We use this muscle to do something slightly different. It's an affair. And this is a special offer. We think this is a big deal for this community," Frosh said as he joined Chairman Kelly and Regional Chairman Jenkins in KFAI conversations with Al McFarlane.
"It took a huge amount of intention and focus. The first step is recognizing that we need that level of focus and investment specifically in the black community. Second, there is symbolic value. A bank is a It's tangible. It's a way to turn commitments into actions and actions into tangible progress beyond symbolism, it's also material," Frosh said. "I First Independence Bank exists to create wealth in communities of color through home ownership and small business ownership. And to be clear, this is not just the work of First Independence Bank. Every bank in this region involved in this project is committed to doing even more. It adds more firepower to our ability to do that. And frankly, cultural competency can be a new bridge of trust. We all have a lot to learn from each other."
"I tell this story," said Peter Frosh, "on behalf of the banks. After the murder of George Floyd in 2020, you brought together bank executives. They are all doing important things within their institutions in response to the killing, and they recognize that the kind of change we need to see is at a level and an urgency that demands more. So they had a relationship, they got together. And asked what more could we do? And it was from an open and urgent conversation like that that a relationship was established between TCF Bank, which had a relationship with First Independence Bank in Detroit. It was just a learning opportunity at first. But President Kelly joined in this conversation and it quickly became clear that there might be an opportunity to do something really important.
"First Independence Bank expressed a strategic interest in being in this market and said there was no way to do it unless they had an unusual level of support to get there. These bank executives hugged each other and said, whatever it takes, we're going to figure out what this is going to do and we're going to do it. Each of these banks did something essential without which this would not have happened. And so I think this thing that we're talking about here is a great demonstration of a true partnership where each partner has to take risks and the thing only works if each does their part. That's what's happening here. We know of no other example of five banks working together to bring a competitor into a market for the express purpose of advancing racial equity. I mean, it's not business as usual. It's an unusual case," Frosh said.
The five banks that have collaborated to make the business possible are: US Bank, Bank of America, Huntington Bank, Bremer Bank and Wells Fargo Bank. All were present to celebrate the inauguration of the new First Independence Bank of Minnesota.