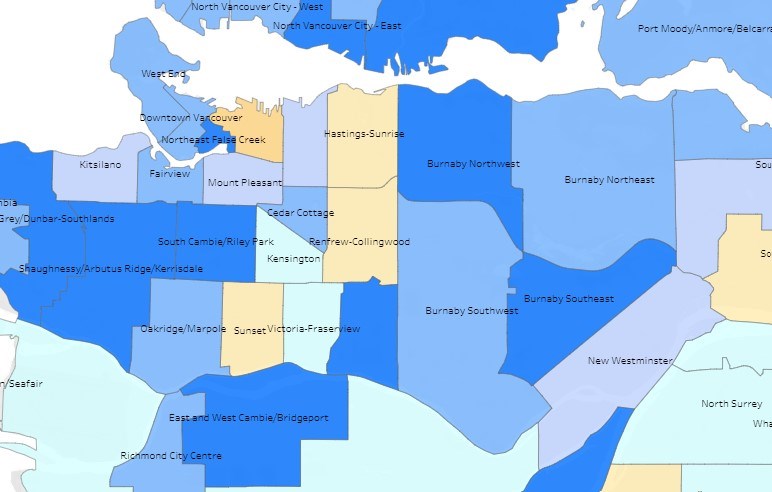 Burnaby South East and North West now have 0% coronavirus positivity rate
[ad_1]
There is good news in Burnaby's fight against COVID-19.
According to the latest COVID-19 surveillance report, Burnaby Southeast and Northwest both achieved a 0% positivity rate from June 15 to 21, 2021.
The data is published by the BC Center for Disease Control.
Burnaby Southwest and Burnaby Northeast are not far behind with a positivity rate of 1%.
Vaccinations have played a significant role in dropping the number of cases, positivity rates and case rates in British Columbia.
Yesterday, about 1.1 million people in the province – 24% of those eligible – are fully vaccinated, BC provincial health official Dr. Bonnie Henry revealed yesterday.
So far, 4.5 million vaccines have been issued, including 1.1 million second doses.
For the first doses, 76% of people aged 12 and over received a single injection. The province's goal is to reach over 80% with the first doses by mid-July.
"We're in a pretty critical time by the end of July, when we are protecting more and more people fully, and we also need to keep taking those early doses," Henry said.
The latest regional figures for Burnaby from June 15-21 are as follows. Case rates are new cases per 100,000 population by local health zone and community health service zone.
NORTH-WEST BURNABY
Case rate: 1
Positivity rate: 0%
Percentage of vaccination for 12 years and over: 82%
Percentage of vaccination for 18 years and over: 82%
BURNABY NORTHEAST
Case rate: 1
Positivity rate: 1%
Percentage of vaccination for 12 years and over: 80%
Percentage of vaccination for 18 years and over: 80%
SOUTH-WEST BURNABY
Case rate: 2
Positivity rate: 1%
Percentage of vaccination for 12 years and over: 77%
Percentage of vaccination for 18 years and over: 78%
SOUTH EAST BURNABY
Case rate: 1
Positivity rate: 0%
Percentage of vaccination for 12 years and over: 77%
Percentage of vaccination for 18 years and over: 78%
– With files from Cindy E. Harnett, Times Colonist
[ad_2]